Scandinavian premiere of the South­­ African classic Woza Albert! December 9 at Kulturhuset Stadsteatern Vällingby
2019-12-09 @ 19:00

-

20:10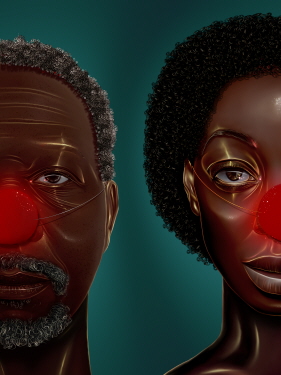 The National Black Theatre of Sweden's first theatre production, Woza Albert! By Percy Mtwa, Mbongeni Ngema and Barney Simon directed by Josette-Bushell Mingo.
Scandinavian premiere December 9 at Kulturhuset Stadsteatern Vällingby.
Jesus has comeback to earth and has chosen to do so in South Africa – during the apartheid era. The black population is treated like a second-class citizen. Jesus or Morena as he is called preaches justice and peace – messages that do not go home with the white Christian power elite and it doesn't help that Morena is black. The power elite's answer? Drop a nuclear bomb on him!
Woza Albert! the political satire that was first played in 1981 at The Market Theatre in Johannesburg, one of the most important theatre scenes of the African continent. Two years earlier, the play had been improvised by the two actors Percy Mtwa and Mongeni Ngema.
Woza Albert! It is today regarded as one of the most important pieces written during the apartheid era and is still played extensively both in South Africa and around the world.
The play is set and performed for the first time in Scandinavia, in the roles, we see Richard Sseruwagi and singer Aurelia Dey that makes her actors debut in the play.
– Even today the traces of apartheid remain in South Africa. Putting up the play shows continued solidarity with the people there. Here in Sweden, it is a continuing struggle for the people of African descent to live and exist under the same conditions, which makes it highly relevant today, says Josette Bushell-Mingo, artistic architect at The National Black Theatre of Sweden.
In Woza Albert! figures several people like Nelson Mandela and Albert Luthuli. Luthuli was president of the ANC from 1952 and received the Nobel Peace Prize for his fight against apartheid 1960.
Josette Bushell-Mingo is a director, singer, and actor. She. Has worked for The Royal Shakespeare Company and was nominated for the British Empire Order OBE: Most Excellent Order of the British Empire – for Services to the Arts. In 2016 she directed A Grape in the Sun by Lorraine Hansberry at the National Theatre which was celebrated in Swedish and international press. As an actor, Bushell-Mingo has toured with the one-man show Nina – A story about me and Nina Simone, which premiered at the Unity Theatre in Liverpool 2016.
Today she is a prefect for acting and mimicry at Stockholms Konstnärliga Högskola – University of Performing Arts in Stockholm.
Richard Sseruwagi is an actor and musician, educated at Abafumi Theatre Academy in Kampala, Uganda. He has worked at a variety of theatres including The Market Theatre in Johannesburg, The National Theatre in Norway, Kulturhuset Stadsteatern. Richard has starred in Swedish TV series and movies. For his performance in the Movie "Medan vi lever" – directed by Dani Kouyaté he was nominated for the best male supporting act at the African Movie Academy Awards 2017.
Aurelia Dey is an afro-beats and dancehall artist. She has studied at the Academy of Music in Gothenburg. In 2015 she released the album Gyllene Tider and has toured around Sweden, South Africa, Ghana, and Zimbabwe. In spring 2019 Aurelia was a part of Riksteatern Theatre residence – a development program where she wrote a rough script for the music-based performance Alpha in the Making. In Woza Albert! She makes her acting debut in the play.
Woza Albert!
By Percy Mtwa Mbongeni Ngema and Barney Simon
Scandinavian premiere December 9, Kulturhuset Stadsteatern Vällingby
By: Percy Mtwa, Mbongeni Ngema, and Barney Simon
Translation Lisbeth Grönlund
Director: Josette Bushell-Mingo
Language coach: Napo Masheane, Kanyi Mavi
Scenography and costume: Lotta Nilsson
Light: Jenny Larsson
Sound: Vusie Kubheka
Directors assistent: Måns Clausen
Performing actors Richard Sseruwagi and Aurelia Dey
The show is played in Swedish, Xhosa, and English.
The play is performed with permission from The Market Theatre and with the support of the Swedish Cultural Council – Kulturrådet, Region Stockholm and The City of Stockholm – Stockholms Stad